Did you know that challenge coins could be shaped like a dog tag? Dog tags were originally used in war to provide important information about a soldier, such as name, blood type, religion, etc. Over the years, they have become something of a novelty for soldiers and civilians. Now with the new design options of challenge coins, dog tags can display all kinds of creative images and symbols. Knowing the design options that are available to you will help you to customize the perfect challenge coin dog tag.
History
Military service people around the world use dog tags. What every country's dog tags have in common is they are used to provide vital information for each individual soldier.
Going back to the United States Civil War, soldiers realized that they needed some kind of identification to be recognized if they were mortally wounded in battle. This way their family members would be able to bury them. Because they did not have customized dog tags, soldiers would attach a piece of paper on the back of their coats with their name and home address. Others would carve their identification information on the back of a belt buckle.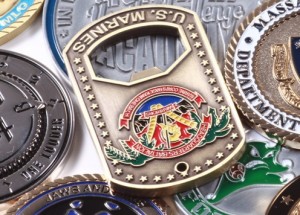 After the Civil War, it became clear that there was a need to provide soldiers with a way to be identified. That's when dog tags became standard military paraphernalia. Since then, dog tags have been provided in every major American war including:
• World War I
• World War II
• Vietnam
Dog tags are still used today by military combatants around the world. Thanks to innovations offered by manufacturers of challenge coins, dog tags have all kinds of new designs on them.
Design
When looking for a challenge coins in the form of a dog tag, you want to consider a number of things. One of the first questions you should ask yourself is: how do I want to carry my dog tag? Challenge coins shaped as dog tags can connect to a key chain, tie around your neck, or simply be placed in your pocket. A new trend that you might find fun is having your challenge coin dog tag designed as a bottle opener. It all depends on your preference.
The shape of your tag is also an important element. Some classic shapes of dog tag challenge coins that you may want to consider include:
• Rectangular
• Oblong
• Octagon
• Hexagon
Once you've decided on its purpose and shape, you'll want to consider how you want to display your chosen design. Dog tag challenge coins can display designs in two ways:
• Horizontal
• Vertical
The horizontal display is ideal for tags with large pictures or emblems, while the vertical design has a teardrop look that many collectors find unique. In order to decide which one is right for you, first consider the imagery you want displayed on your dog tag. There are countless styles to pick from.
Classic Symbols
You design your traditionally shaped challenge coins how you like, and the same is true for dog tag challenge coins. Some of the classic designs include:
• Military branch seals (e.g. Army, Navy, Air Force, Marines, Joint Chief of Staff)
• American Eagle
• Business card with owner's signature and business address
• Engraving of a special date in history to honor heroics, hard work, and accomplishments
Very often dog tag challenge coins commemorate a special moment, or recognize unity and friendship between members of an organization. Whatever the purpose for your dog tag, make sure it includes the unique elements of the moment.