Challenge Coin Pricing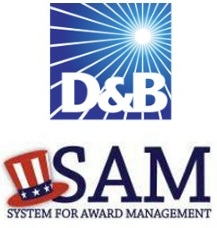 If you find a better price on custom challenge coins from any of our competitors offering the same services, we'll beat their price – no questions asked. Be sure to view our
artwork portfolio
for ideas, examples and more. We work with many government, military and educational institutions and always try to find a way to meet budget requirements.
Our reps can assist you with tailoring your order to fit the needs of your organization, whether big or small. Have more questions – call us toll free at
1-800-818-3229
. We can make any size or shape coin – available for all
Military
&
Government
branches:
US Army
,
Navy
,
Air Force
,
Coast Guard
,
Law Enforcement
, and
Firefighters
.

***NO MOLD FEES FOR QTY 300+ (Under 2.50″ SIZE)***

| | | | | |
| --- | --- | --- | --- | --- |
| $4.77 | $2.95 | $2.52 | $2.45 | $2.35 |
| $5.17 | $3.17 | $2.73 | $2.69 | $2.60 |
| $5.48 | $3.35 | $2.98 | $2.92 | $2.79 |
| | | | | |
| --- | --- | --- | --- | --- |
| $5.27 | $3.23 | $2.80 | $2.73 | $2.67 |
| $5.75 | $3.50 | $3.13 | $3.07 | $2.98 |
| $6.22 | $3.81 | $3.44 | $3.41 | $3.30 |
| | | | | |
| --- | --- | --- | --- | --- |
| $5.72 | $3.53 | $3.07 | $2.98 | $2.90 |
| $6.32 | $3.93 | $3.54 | $3.47 | $3.35 |
| $6.95 | $4.27 | $3.95 | $3.91 | $3.81 |
| | | | | |
| --- | --- | --- | --- | --- |
| $6.79 | $4.38 | $3.70 | $3.50 | $3.40 |
| $7.14 | $4.63 | $4.22 | $4.19 | $4.09 |
| $7.57 | $4.83 | $4.50 | $4.44 | $4.32 |
| | | | | |
| --- | --- | --- | --- | --- |
| $7.19 | $4.97 | $3.96 | $3.93 | $3.72 |
| $8.16 | $5.66 | $5.21 | $4.71 | $4.35 |
| $8.51 | $5.73 | $5.39 | $5.28 | $5.22 |
| | | | | |
| --- | --- | --- | --- | --- |
| $8.21 | $5.66 | $5.10 | $4.89 | $4.62 |
| $8.89 | $6.11 | $5.78 | $5.41 | $5.11 |
| $9.31 | $6.30 | $5.99 | $5.77 | $5.56 |
| | | | | |
| --- | --- | --- | --- | --- |
| $9.11 | $6.37 | $6.25 | $5.88 | $5.50 |
| $9.80 | $6.46 | $6.35 | $6.11 | $5.87 |
| $10.36 | $6.86 | $6.57 | $6.22 | $5.92 |
Challenge Coin Plating Options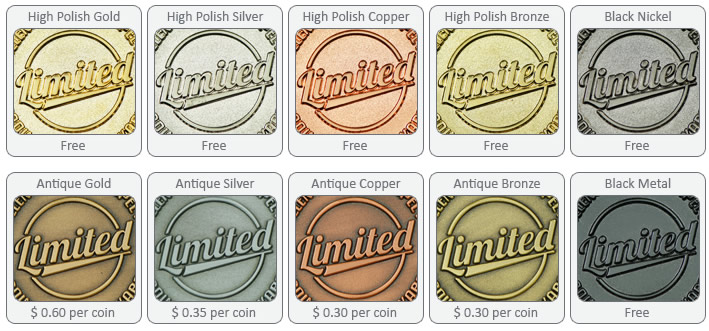 Edge Options
Additional Custom Challenge Coin Options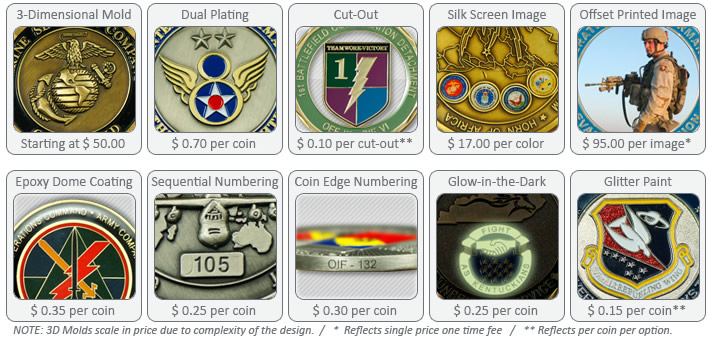 Presentation Options