Custom wedding coins are a fantastic way to add a splash of color and drama to your wedding. These coins, which are also known as challenge coins , arras coins, or simply matrimonial coins are custom produced for your ceremony, and they may serve a wide variety of functions during your wedding. Whether you are looking for a way to create some tangible memories for your service or you simply love the idea of hearkening to an older tradition during your ceremony, consider the many roles that wedding coins can play.

Consider the physically pleasing qualities of wedding coins. They can made in any shape, format or color your event requires and are wonderful wedding favors. Imagine a glimmering gold or silver-colored coin sitting by the side of each plate at the reception, or handed by the bride to the wedding guests. They have a permanence about them that makes them a wonderful souvenir for the wedding, something that is neither too large and ostentatious or too small. These coins are a pleasing reminder of the ceremony and a wonderful way to commemorate the marriage.
The customizable nature of the coin is another feature that draws attention. You may choose to have the happy couple's names emblazoned on the coin as well as the date, or you may simply find that you want a symbol that represents them engraved on the coin's surface. Depending on what flavor the ceremony has, you may have the coin engraved with a symbol that matches the wedding's theme. Consider what you might like to see on your wedding coins and how well they may serve you as personalized reminders of your wedding.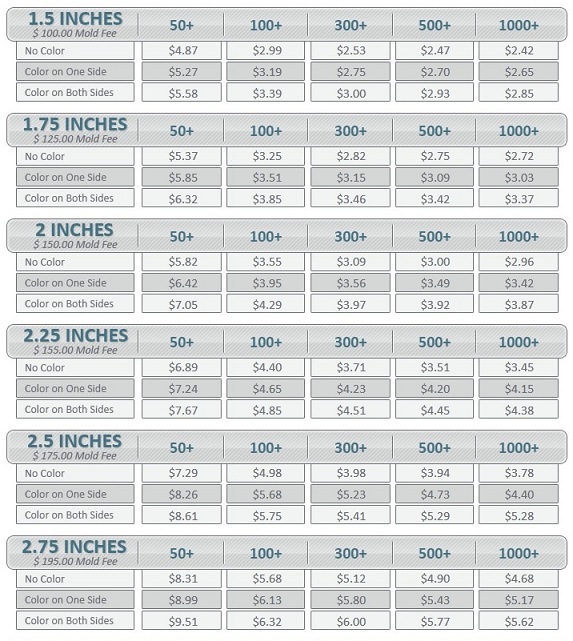 When you are thinking about purchasing customizable wedding coins, there are many factors to consider. One of the first things is the metal plating. Both gold and silver are common choices for these coins, and you should consider the wedding scheme of your wedding. For example, gold is a wonderful choice if you have decided on warm colors like red, brown, orange and yellow. Gold is a warm color, and it is also the traditional choice for Mexican arras coins, as discussed below. Silver, on the other hand, matches cooler wedding colors, like blue, green, and white. Silver is a great choice when you are looking at a wedding ceremony held during winter, for example.
There are many things that you can choose to have engraved on your wedding coins. Most common by far would be the couple's names and the dates of the wedding. However, even on a standard wedding coin, that only takes up one side. On the other side, the wedding couple may choose to have another saying engraved. For example, there may be a Bible verse that is important to them, or a song lyric that describes their relationship. Some people simply choose to have a heart or a rose engraved on the back, symbolizing peace and beauty. For couples who are deeply invested in the church, there might simply be a cross on the back of the coin.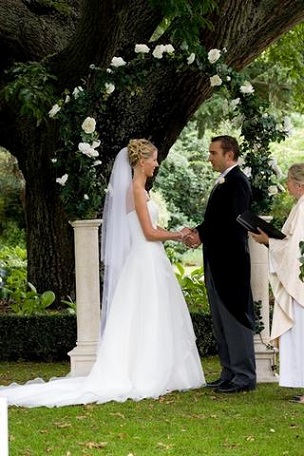 When choosing what to have engraved on the back of a wedding coin, you may consider who has helped you during the wedding proceedings. Some brides and grooms have their parents' names listed on the back, or, if this is a second marriage, the names of their children. This is a wonderful way to symbolize two families coming together as one. When considering whether or not to have other people's names on your wedding coin, speak to them and ask them what they think.
One fantastic way to have the wedding coins presented is to place them in a white silk bag that matches the bride's dress and to have her give them out in the receiving line. This ensures that everyone who comes to the wedding receives one, and it adds a wonderfully personal touch to proceedings. This emphasizes the fact that the wedding coins are a gift from the wedded couple to the people who have attended the wedding.
Another way that people have handed out the wedding coins is by giving them to the flower girl or the ring bearer and asking them to make sure that everyone at the wedding has a coin. Not only does this give the youngsters something to do, it is also a wonderfully charming way to hand out the coins.
Theme weddings are also venues where custom wedding coins can play a role. For example, if you are having a medieval wedding or a pirate wedding, these coins are wonderfully in keeping with your theme. They can be kept in a treasure chest and people can be encouraged to take one as they go by. Similarly, they can also be strewn on the tables as both decorations and party favors. On the other hand, they also add some glitz and shine to a wedding with a Mardi Gras theme or a wedding Las Vegas. Consider how these coins can give your wedding the flash that they need.
Traditions of the Las Arras (Wedding Coins)
Wedding coins play an important part in Mexican weddings and in traditional Spanish weddings. In the traditional wedding, thirteen gold coins are given by the groom to the bride during the ceremony. This symbolizes the groom giving the bride his worldly possessions and his wealth. The bride, in accepting the coins, is symbolizing her pledge to care for his wealth and to always use it wisely. If you are planning to have a traditional Mexican or Spanish wedding, these coins are an important part of the ceremony. Choose your coins to reflect your commitment to each other.
In countries such as the Philippines and Spain, wedding coins have a significant meaning among locals. Wedding coins are a longstanding tradition that is still well-known and widely observed in Latin America.
What do wedding coins mean?
The 13 wedding coins are symbolic in different ways, depending on which country's tradition you follow However, one general idea about these wedding coins is that they symbolize the trust newly married couples have in each other when it comes to successfully managing their home and finances.
This translates to the groom promising that he will always be able to take care of his family. The bride makes a vow that she will honor God's blessings in regards to her married life.
So why are there 13 wedding coins?
The reason there are 13 coins is that one represents Jesus and the other 12 represent his apostles. There are an odd number of coins because this means they can't be divided evenly, as the culture dictates a marriage never should be.
Tradition dictates that either a priest or Godparent presents the coins to the newlywed husband. Of the 12 coins representing the apostles, each one counts towards one month of the year.
To find out more about wedding coins or to get started ordering beautiful custom wedding coins for your own special day, contact us at Challenge Coins Limited today!
Take some time to consider how custom wedding coins can serve at your wedding. Whether you want a wedding that has hints of a traditional ceremony as part of it, or you are more interested in a dramatic touch for your wholly modern wedding, look into wedding coins to help you achieve your goal. The representatives at Challenge Coins Limited can help make your wedding day all it can be with custom coins. Contact us or call 1-800-818-3229.