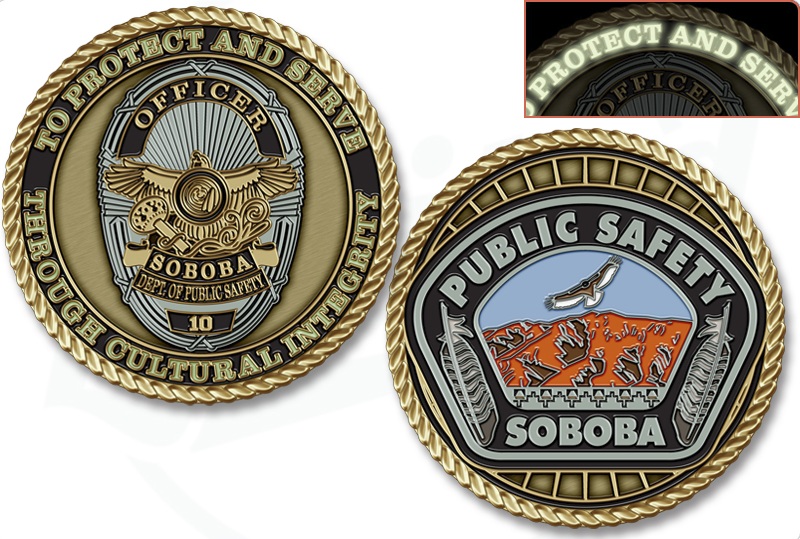 We've found that one thing remains constant when it comes to designing coins, and that is that everyone wants their challenge coin to be somehow "different" than the next. One feature that isn't so often utilized is our glow in the dark enamel color fill. This special coloring allows for any area that is able to colored to glow when exposed to any light source, and then presented in darkness. The coin above is just one example of how this option can be used, but keep in mind any area of your coin can be made to glow.
Challenge Coins Limited has minted many of these coins approaching Halloween, a few for our corporate customers, and hundreds using this technique for military units. An interesting application for this option is coding. Some clients have filled only select areas of their coin with glow in the dark enamel so that a hidden message, or code, is seen only when the coin is viewed in darkness. Additions like this can make your challenge coins really stand out from the crowd in terms of originality. Most recently, a company that specializes in Night Vision equipment used the glow in the dark enamel for their coin – a perfect fit given that the enamel glows in a "greenish color" that is often seen through a viewfinder on such equipment.
One downfall of the glow in the dark option is that you won't want to combine it with an epoxy coated challenge coin. The epoxy will limit the amount of light that interacts with the special enamel, causing a diminished "glow" effect. While most of the coins we sell don't have an epoxy coating, we thought we would point this out before you decide to take your design to the next level with this option. We actually learned the hard way – experience counts!
To find out more, reach out to us via our website or email at: info@challengecoinsltd.com.