Custom Military Challenge Coin Bottle Openers
Military Challenge Coin Bottle Opener: A New Twist on a Classic Collectible
By now you probably know that custom challenge coins can be made in any form, shape, size or finish. Did you know that many of our custom coins are also minted as challenge coin bottle openers? As military challenge coins spread to more private applications – as giveaways, rewards, membership icons – our customers are looking for new and innovative ways to make their coins functional and unique. One way is to have a piece made that actually serves as a bottle opener. They are quite the conversation starter!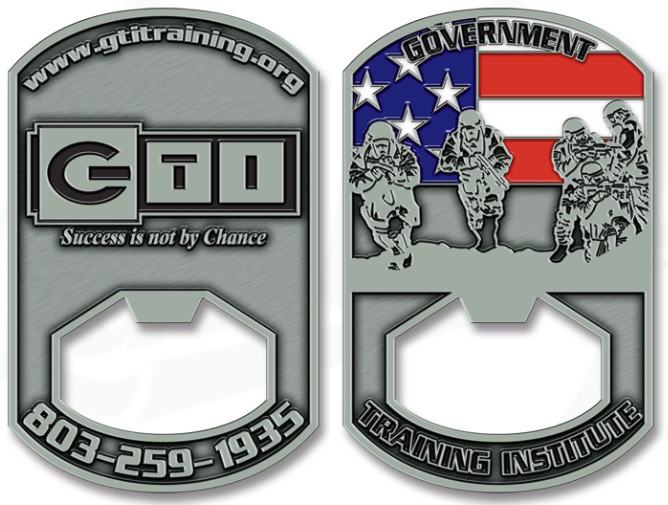 Our artists are highly trained – not only in design – but the actual mechanics of what makes a challenge coin bottle opener function. We have seen too many times companies attempt to manufacture a custom coin bottle opener using improper design specifications. A likeness would be making a tool which is flawed in design and doesn't do the job its intended to do. Many factors come into play with such custom pieces, including bevel, thickness and opening width.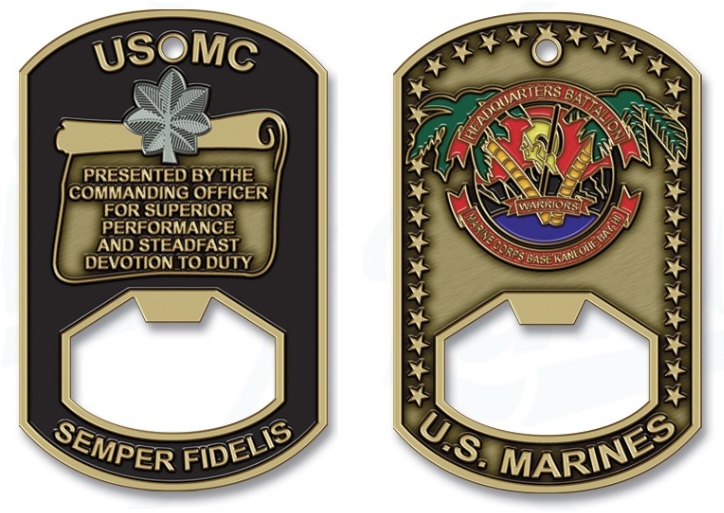 With all this in mind, our customers know that Challenge Coins Limited is an industry leader in custom coins – to include special function items like bottle openers. We take your logo and form it into a coin that will open any bottle, any time, over and over again without fail. Some people don't actually use their coins to crack open a beer, but simply as a display piece – and that's fine too…but you can rest assured that it will do its intended job if called upon.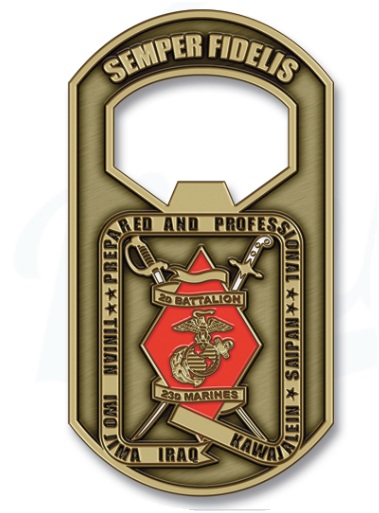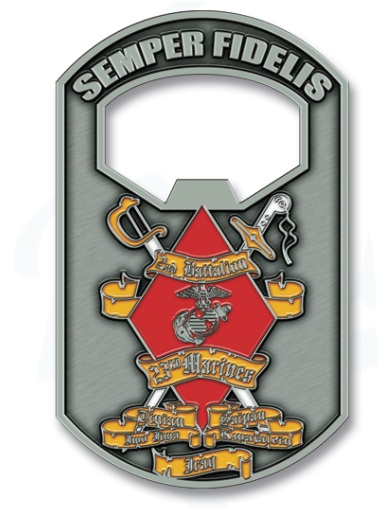 We can produce as little as fifty (50) custom challenge coin bottle openers at your request. We offer completely free design work before you pay us a single penny. We want you to be ecstatic with your coins before you submit payment…it's just how we do things. Our team of six expert artists collaborates on a regular basis to offer our customers the latest in design trends and techniques. What this all means to you is once your coins arrive, your smile will be as wide as the State of Texas.
Challenge coins are an inspired way to show unity and pride in your military unit. It's been a tradition in the Armed Forces to give service members challenge coins as consideration for a job well done. It's an honor to receive a challenge coin, especially when it comes from a respected leader. With these ingenious custom bottle openers, we give you a handy new alternative to the standard challenge coin!
Many people collect challenge coins for their historical value, personal meaning, and interesting designs. Challenge coins can be displayed on the wall or in a showcase, but that can make them a little difficult to show off.
Our high-quality challenge coin bottle openers, on the other hand, are an exciting way to show your pride. They are durable and designed with both style and functionality in mind, while still honoring the challenge coin tradition.
These custom challenge coin bottle openers are a high quality collectible that can be used every day. They not only intriguing to look at and easy to use, but they are also an amazing keepsake and conversation starter. Our bottle openers can be made for any branch of the United States Armed Forces, group or occasion. And we can produce as few as 50 custom bottle openers per design, making it a great keepsake for any size group or unit.
Just let us know what you need and what you have in mind, and we'll get started on the design process. Contact us today at 1-800-818-3229 – we make ordering challenge coins of ANY type very easy.