School Kids Worldwide Love Challenge Coins
Challenge coins are growing increasingly popular in schools in Canada and the United States. This growing interest in such coins is largely due to the fact that school officials and teachers would like something more tangible to motivate students, and also show their pride and appreciation. Even President Obama has seen the potential in using challenge coins in school, as he used them to honor students at a high school in Virginia.
Challenge coins have a long tradition in the United States military. They have been handed out to soldiers since the First World War. The coins were used as a way to create a sense of unity between service men and women. They are now being used, decades later, to promote the building of friendships and expression of pride between students in schools.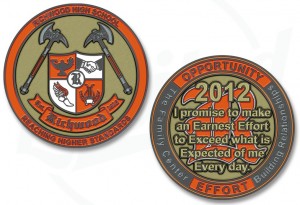 By simply engraving the school mascot on to the face of the coin, teachers and administrators have a gift that they can share with students. These tokens can be kept as mementos by students, reminding them of their experiences and accomplishments during their time in school. A schoolteacher in Ontario is believed to have started the use of challenge coins in public schools in 2008.
Chris Boyer ran a successful challenge coin business after school hours. He thought he had designed coins for just about everything: military service people, police officers, firemen etc. Then one day it "struck" him. Why not make a coin for his students? He heard about an organization called the Challenge Coin Association. Created by ex-Iraq War veteran, Jesse Medford, the CCA is the first official challenge coin organization for hobbyists and makers. The teacher contacted Medford and asked him if he could design a coin with the school's mascot, a cartoonish looking falcon named 'Frankie the Mascot.'
Not long after Medford and Boyer spoke, the coins were introduced in school, and students in Franklin Public Schools were filling their pockets with them. Similar to the military tradition, students were challenging one another to present their school coins. If a student couldn't produce the coin upon request, they would have to do a push-up or give the person a candy bar. It became a fun way for students to interact, and teachers used the coins as a way to reward positive behavior. Since their introduction in Franklin Public Schools, challenge coins have made their way into schools in the United States, where they are now given to students as a token of honor.
The President visited a high school in Virginia to give a speech to the student body on the first day of classes. The school's student body president had the honor of introducing the President to his classmates. After the speech, The President shook the young man's hand and then handed him a presidential challenge coin. The coin's face had the number 44 on it signifying Barack Obama being the 44th president of the United States. The President's use of the coin is another example of how challenge coins are beginning to become a symbol of honor for students.
Whether it's the President of United States or a public school teacher in Ontario, challenge coins are being given to students all over the world. They offer a fun way to show school pride, and are a tangible way to honor a special moment in a young person's academic life. Challenge Coins Limited can easily come up with a design focused on representing your school. Browse our gallery for a few examples of coins we have minted previously.