The Sumter, South Carolina Chamber of Commerce 100th Anniversary Challenge Coin
Is your Chamber of Commerce celebrating a significant milestone in your community? The Sumter, South Carolina Chamber of Commerce used our services to design a challenge coin for their upcoming 100th Anniversary celebration on May 16th, 2012. Their coin shows the historic building on one side and colorful representations of the Sumter, South Carolina area on the other. This coin is plated in high polished silver with a standard edge at 1.75″ in size. The first 500 coins will be used at the event as celebratory pieces with more coins being rolled out at a later date.
Custom coins are great for any event, large or small. Since they are a hard, durable good…they don't get tossed aside or end up in the trash can when your event is over. People tent to collect and display these coins over time. In fact, they have even evolved into a new business card of sorts.
If you are in the Sumter area on Wednesday, May 16th, stop by and join the festivities. The even will be held at the Sumter Civic Center located at 700 W. Liberty Street with drinks being served at 6:30pm and dinner beginning at 7:00pm. There will also be a silent auction, live music, photography and additional cuisine offered. Please call 803-775-1231 for complete details.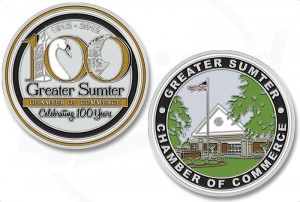 Sumter, South Carolina is centrally located in the middle of the State and is widely known as the Gamecock City. It's diverse culture and business elements make it ripe for growth, and with under 100 miles from the beach one might see why this is a desirable place to live and raise a family.
Put your event on a custom coin by contacting the experts! Challenge Coins Limited works with organizations big and small to find an attractive and tasteful solution to their celebration needs. With our creative artists and exemplary service, this is one task that your organizer won't have to stress over. Call 1-800-818-3229 to get started.