Coins As Clever Marketing Tools
Challenge coins can be a great way to honor a military veteran, promote a cause or celebrate a special occasion. They can also be clever marketing tools. Businesses are always looking for creative ways to promote themselves. One side of a coin can promote a company event, for example, while the other side features your company logo and business slogan. The marketing possibilities with challenge coins are nearly endless.

What Do You Want to Promote?
The first decision you have to make is what to put on the other side of the coin. It's a given that one side will be your company name or logo. The flip side could be a specific conference or meeting or the anniversary of your business. It could also be tied into the holiday season or just about anything somehow related to your business. Another possibility is to tie the coin in with a particular promotion such as "10% off your next purchase" or a similar promo. Regardless of what you are marketing, you need to narrow down choices. They can also be used to promote an upcoming event your company is involved with. This could be a community event that you sponsor or an upcoming corporate event. You could also opt to use challenge coins to help launch a new product or service. It can be just about anything that you would normally want to market or promote in some way.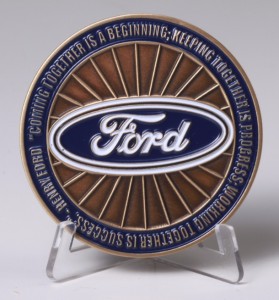 Your Plan of Attack
You can get a lot of use out of challenge coins, depending on how you use them. If you want to get the most of marketing an upcoming event, it's a good idea to pass out the coins well in advance of the event. If you are simply using the coins to promote your business or a particular product or service, you can mix it up a little. Some can be passed out during your traditional marketing efforts such as mass mailers or within local communities. You could approach local businesses and make a deal that if they allow you to pass out your custom coins, you will promote their business or product or some other arrangement. Aside from physically handing them out, they can also be incorporated into other marketing techniques. You could mention your special coins, for instance, on your website or social media marketing efforts.
If you're using challenge coins as a marketing tool, you probably want to make as many as possible. If you're planning to use the coins to promote a certain event or something with a specific date attached, you may want to limit how many coins you have made. Keep in mind that you can always have more made. If you are using challenge coins to celebrate a business related anniversary, you may want to limit them somewhat to make them somewhat of a collector's item. It really depends on what other methods you are using. If you are not entirely depending on a coin, you can be somewhat flexible with how many you have made.
Being Creative With Coins
Challenge coins can be an extremely clever marketing device, it just depends on your level of creativity. First, realize that custom coins are likely to standout from your other methods. It's often the creative approaches to advertising that people tend to remember. Your coins can be given away with each purchase, or use of your service, or handed out by your employees. Sometimes they are simply left on the counter at your place of business for customers to take as they come in. You can even make the coins part of your general business practice by incorporating them into your slogan or adding a tag line such as "Ask about our challenge coins."
A unique and custom made coin can be a creative way to promote your business or event. They are fairly easy to have made and can feature just about any design you can think of, including touches of different colors here and there. At a time when marketing budgets are tighter than ever, it is often the creative marketing efforts that standout from the crowd and have the most impact. Challenge coins certainly fit that category.
Challenge Coins Limited can help make your diversified branding campaign come together with no hassle, reasonable prices, and excellent service. We are available every day of the week to answer questions. Call toll free at 1-800-818-3229.