Challenge Coins Enter The Sports Arena
The concept of memorabilia is nothing new, and its desirability has existed as long as fans of teams and sports have wanted a small piece of the teams they support. Challenge coins are a relatively new form of memorabilia, at least in the sports world. They originated in the military as a means of building unit cohesion and camaraderie, but have since moved beyond their military background and out into the civilian world. Sports teams have several uses for challenge coins and are helping to propel their burgeoning popularity as collectors' items.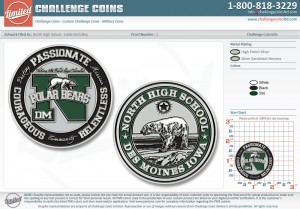 The high customization level of challenge coins makes them desirable collectors' items for players and fans alike. Since challenge coins are affordable and easy to customize, teams can make different designs so that people will want to trade coins. Teammates can trade coins within a team, especially if each coin is personalized to identify an individual person or number. Fans can exchange challenge coins with one another so they can collect coins from the best years and the most important events. People who love a particular sport in general can exchange challenge coins with other collectors in order to assemble a collection featuring all teams.
One of the biggest draws of challenge coins is the ability to customize each coin on an individual letter within an order. Coaches will sometimes order challenge coins with names and jersey numbers to hand out to players in order to motivate them for the upcoming season or congratulate them for a job well done at the end of a season. These coins might even be handed out during an awards ceremony in which each coin is minted to reflect individual achievements and superlatives. Combining the highly personal aspect of a name and jersey number with a more general team mascot or symbol creates a memorable and valued piece of team memorabilia that will be treasured beyond season's end.
Challenge coins are also good for fundraising. An attractively designed coin will be desired by fans of a team, particularly if the fans are regular game attendees. These coins can be sold at and between games in order to raise money to supplement traveling expenses, equipment costs, and league dues that teams may have to pay in order to play. Challenge coins are durable and long lasting, giving them added appeal to fans who want to purchase a piece of sports memorabilia that will not break or wear shortly after purchase.
Personalized coins can also be used as environmentally friendly admittance tokens. Rather than wasting paper on printed tickets, teams can pass out reusable challenge coins instead. Game attendees simply hand the challenge coin to the admittance gate attendant and the coins will be redistributed upon purchase for the next upcoming game. Challenge coins can also be used for promoting special team deals and packages. An announcer tells game attendees that those in possession of a team challenge coin all get a free soda at the concession stand and the fans simply show their coins to the vendor to gain their prizes. Teams can draw in new fans and game attendees by showing themselves to be environmentally conscious and willing to try unique, eye-catching solutions to modern problems.
More and more important gaming events are being started by a flip of a challenge coin. It is not uncommon to hear an official publicly state that the coin that they are flipping to determine possession has one school's logo on one side and the other school's logo on the reverse side. They have become collectors' items by those who want a souvenir from that particular season or game.
Challenge coins make excellent gifts for those who want to reward team players for hard work and good play as well as for fans of teams that want a long-lasting souvenir of a special occasion for their teams. They can be used to raise both team spirit as well as money for team supplies and can be a great means of bringing a fan base together. These coins can also be traded to fans and players of other teams in order to show good sportsmanship and to assemble league and division coin collections. Those with military backgrounds will also appreciate receiving a challenge coin because they will be reminded of teamwork and unity from their times of service. The distribution of challenge coins is ever growing in popularity, so teams would be wise to get in on this newer form of promoting the team's image now so that they will be seen as forward thinking and relevant to the modern sports fan.
Challenge Coins Limited has designers available to make your next sporting event an even more cherished event – call us at 1-800-818-3229 to see how we can adapt your team logo into the coin making process.