7 Things You Want to Consider When Customizing Your Challenge Coin
Do you want a customized challenge coin but you're unsure as how to design it? Before you go about placing your order, there are seven important things that you need to consider:
1. Event
A challenge coin can be the perfect token of appreciation at a special event. The types of events people give them out at include:
• Retirement parties
• Bachelor/Bachelorette parties
• Birthdays
• Commemoration ceremonies
• Events honoring acts of bravery
• Poker tournaments
• Fantasy football drafts
• Business conferences
People are using challenge coins in new and fun ways every day. It's really up to you how you want to use them.
2. Artwork
Before looking for a challenge coin company, you should first brainstorm about the design you want on the face of your coin. Remember, you want to be unique, so pick art images or insignias that relate specifically to the event or people to who you are giving your challenge coins. Some options include:
• Cultural symbols like a shamrock or eagle
• Flags
• Monuments
• Dates
• Sports teams
The possibilities are endless, so take time to narrow down your choices.
3. Soft or Hard Enamel
The difference between a soft enamel and hard enamel challenge coin has nothing to do with the actual "hardness" or "softness" of the coin. Soft and hard enamel refer to the finishing process used to complete the challenge coin. Because the paint fills flush with the coin's edges, a hard enamel coin has a smoother feel. On the other hand, softer enamel coins have raised metal areas that provide dimension, so they "feel" more textured to the touch. Naturally, hard enamel coins are more costly. You can read more on this subject here.
4. Quantity
If you're designing a challenge coin as a gift to a few family members, then a small order is all you will need. However, many are designed for use at big events, like wedding coins or retirement parties. In these cases, you want to be sure that you order enough coins for everyone. Most challenge coin companies require minimum orders of at least 100 coins. That may sound like a lot, but it never hurts to order extra. That way you're not leaving anyone out when it comes time to distribute them.
5. Plating
Plating refers to the outside covering of the challenge coin. There are many types of plating types to choose. These include:
• High polished gold, silver, or bronze
• Black nickel
• Antiqued gold, silver, or bronze
• Black metal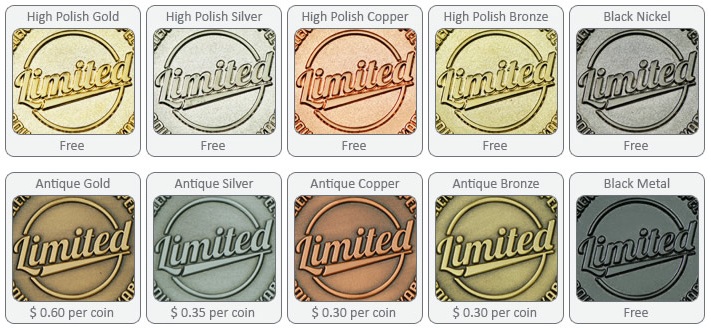 6. Size
Coins are measured in diameter. You may wish to a U.S. quarter as a reference point when deciding on the desired size of your custom challenge coin. A quarter is just shy of an inch in diameter.
Challenge coins are much larger than U.S. coin currency. They range from 1.5 to 3 inches in diameter. This means a quarter is about a half inch smaller in diameter than the smallest standard size challenge coin.
7. Edge
Challenge coins come in a variety of edges. It is best to think about the type of edge that you would like for your customized design before placing an order for your challenge coin. The most common edge types include:
• Flat edge
• Rope cut edge
• Spur edge
• Oblique line edge
• Flat weave edge
• Diamond cross cut edge

As you decide on how you want your challenge coin designed, you should consider each of these seven mentioned aspects. Taking the time before you call a company will ensure you get the perfect coin design for your individual needs. If you've already know what you want, you can fill out a free design and quote request, and the representatives at Challenge Coins Limited will offer you a great deal on coins featuring your customized design.