Boost Your Conversion Rates by Adding QR Codes to Your Challenge Coins
How many times have you been given a business card only to stuff it in your pocket or throw it away without ever giving it a serious look? Odds are that has happened more often than not in your lifetime. The truth is that the majority of these outdated cards get lost in wallets or pockets, or they are simply discarded.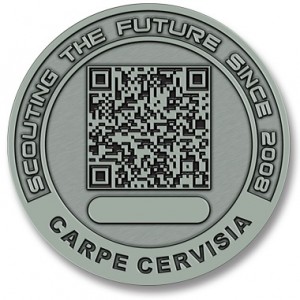 A card's design is often the determining factor in how effective it is in promoting a business. The more unique its appearance, the more likely it is to garner a second look. It is for that reason that many businesses are using such customizable items as challenge coins.
While the overall appeal and uniqueness of challenge coins makes them highly effective marketing devices, they alone still do not guarantee optimal conversion rates. There is no way of knowing whether or not the recipient of the challenge coin is going to visit your website or further familiarize themselves with your product or service upon returning home or to their office. In order to improve conversion rates, companies are taking their use of challenge coins one step further by adding QR codes to their surface.
QR Codes and Challenge Coins: A Fresh Idea
QR codes, better known as quick response codes, are able to store large capacities of information that can be accessed in seconds. With the help of a basic application, potential clients can use their smart phones to access such data as hyperlinks, text, and even coupons that are stored in the QR code located on a coin. The QR code allows your clients to import your information to their smart phone without so much as a click of a button.
Challenge coins featuring QR codes were first used at a conference in Las Vegas when a business owner sought a way to stand out from the rest of the crowd. He created a coin with a QR code that stored his company's information, as well as his contact data and website. Not only did his challenge coins capture the attention of other attendees at the conference, but also the QR code design enabled him to immediately identify interested customers and start the negotiation process.
With a standard card, you may have to wait days or even weeks to hear back from a client. In fact, your card may get lost among the countless others that potential client received during the same event. He or she may also have simply forgot about the deal or business proposition that the two of you had discussed.
By using challenge coins that feature a QR code with your contact information and any relevant company data, you can be sure that they will not get lost among the common forms of media given out by your competitors. Even more importantly, your potential client can use their smart phone to immediately access any details that may be influential in closing the deal.
With all the details they will need right at their finger tips, your potential client will be far more likely to move forward with a transaction. The details of your deal will be fresh in their mind, and because everything is there for them in the QR code, they'll likely contact you first when it comes time to finalize everything.
The combination of the unique look and shape of the challenge coin, and the readily available information in the QR code provides for better conversion rates than you would likely see with other traditional advertising. As such, challenge coins featuring QR codes are the perfect option to supplement the standard business card as a means of effectively advertising and promoting your business.